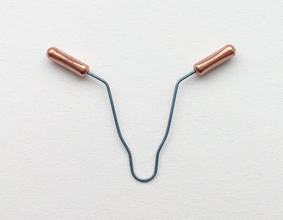 1. Intelligent Memory
Made by special shape memory alloy for medical use. So it has good tissue compatibility, can maintain its original designed shape in human uterine cavity, and is not easy to deform.
2. Open Arcuate Shape
Designed in accordance with the dynamic mechanism of uterus, its shape complies with the form of uterine cavity, hence it is not easy to displace and expulse. Two copper grains release copper ions in the uterine cavity, fully exerting contraceptive function.
3. Long Life
Calculated by rate of corrosion, it is capable of long-term placement in the uterus.
4. Easy and Convenient Insertion & Removal
AiMu MCu IUD is inserted by means of withdrawal. During the process of removal, it is safe to use extractor and easy to operate. Easy and convenient rechecking by means of B ultrasonic wave or X-rays afer insertion of IUD.