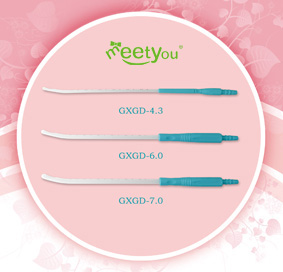 Meet You disposable endometrial suction curette is made of high polymer material with premium quality. Applying advanced and sophisticated techniques, the product is smooth and with good plasticity, gentle, soft and safe.
Lessen pain:

smooth, gentle and soft material has little damage to endometrium; not only causes less blooding and pain, but also decreases the rate of uterus perforation.
Safe:
single use; avoids cross infection.
Good compatibility:
gentle and soft; with plasticity and good compatibility to uterus; easy for operation in bended or inclined uterus.
Terminating pregnancy earlier:
specification GXGD-4.3 surmounts traditional metal endometrial suction curette, can terminate early pregnancy for one week in advance. No need to dilate cervix before inserting it into uterine cavity; less pain to the operated; less damage to uterus; soon post-operation recovery!
Instruction for use:
1.Take out this product in an aseptic environment, use a connecting tube to connect it with negative pressure suction apparatus.
2.Choose suction curette of corresponding specification according to the actual situation of patient. For those need cervical dilation , dilate the cervix beforehand.
3.Gradually insert the front end of suction curette into uterine cavity along uterus direction. Regularly and slowly move it back and forth in uterine cavity clockwise or anticlockwise to suck embryo and villous tissues. This can be repeated for several times.
4.Check size of the embryo sac sucked out , whether there is villous tissues and whether embryonic tissue is complete.
5.This product is for single use, dispose as disposable medical waste after use.